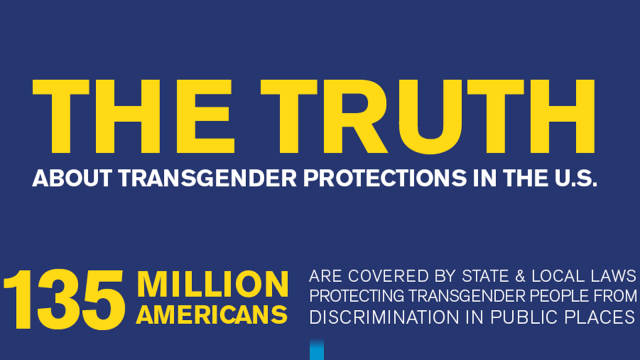 Post submitted by Allison Turner, HRC Communications Assistant
Across the country, anti-equality lawmakers have proposed more than 40 bills attacking transgender people from all angles -- bills that would strip transgender people of their rights, deny city councils the ability to give their transgender citizens non-discrimination protections, and even specifically target transgender children in their schools.
The rhetoric around these laws is deplorable -- and just plain false. Case in point: claims by North Carolina Governor Pat McCrory, who signed the infamous NC HB2 into law, that the Charlotte City Council was enacting a "mandate" to "allow a man into a woman's restroom" when it expanded the city's non-discrimination ordinance to prohibit discrimination based on gender identity in public places. There was nothing about Charlotte's ordinance that went out of the ordinary or allows for increased crime. In fact, more than 135 million Americans are already covered by laws like Charlotte's, which HB2 overturned. That's 42 percent of all Americans -- not to mention any visitors who travel to these places for any reason. In fact, 18 states, the District of Columbia, and more than 100 major American cities, including Atlanta, Dallas, Cincinnati, Indianapolis, and Pittsburgh all have these protections.
And while HB2's discriminatory overreach is unprecedented, there is nothing new about  non-discrimination laws -- the first-ever policy to fully protect transgender citizens was passed in Minneapolis in 1975.
Non-discrimination protections are are also popular among private entities, including the nation's top healthcare providers and major U.S. companies like Chevron, Apple and CVS. At least 2.4 million employees at major U.S. healthcare facilities are covered under these protections, and at least 28 million employees are covered at major U.S. companies.
Many of these companies are not only protecting their own employees, they're working to expand protections further by joining the Business Coalition for Equality and advocating for full federal protections for transgender Americans.
When anti-transgender lawmakers propose legislation limiting or taking away the rights of their transgender constituents, they are doing nothing but using the rhetoric of fear and ignorance to target people -- including children -- with hate.